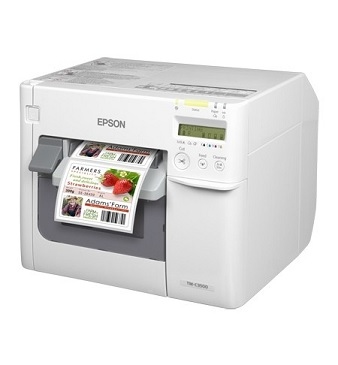 Epson TM-C3500
Kleine maar toch efficiënte inkjet label- en ticketprinter.
De meest economische inkjet labelprinter in gebruik van alle inkjet labelprinters. De TM-C3500 is uitgerust met een snij functie die de media naar wens op maat snijdt. Er is een divers programma media beschikbaar voor de TM-C3500. Etiketten op rol, endlesslabels en tickets van papier of kunststof met glossy of matte coating.
De TM-C3500 in combinatie met originele Epson kunststof media zijn BS5609 gecertificeerd.
Downloads
Printers
Opties
03 years CoverPlus Onsite Swap service for TM-C3500
CP03OSSWCD54
03 Years CoverPlus Return To Base service for TM-C3500
CP03RTBSCD54
04 years CoverPlus Onsite Swap service for TM-C3500
CP04OSSWCD54
04 Years CoverPlus Return To Base service for TM-C3500
CP04RTBSCD54
05 years CoverPlus Onsite service engineer for TM-C3500
CP05OSSWCD54
Media
TM-C3500 maintenance box
C33S020580
Black cartridge
C33S020601
Cyaan cartridge
C33S020602
Magenta cartridge
C33S020603
Yellow cartridge
C33S020604
| Code | Omschrijving | Aantal | Prijs/stuk | Prijs excl. | |
| --- | --- | --- | --- | --- | --- |
| C31CD54012CD | TMC3500 | 1 | € 1.328,90 | € 1.328,90 | Bestel |
| CP03OSSWCD54 | 03 years CoverPlus Onsite Swap service for TM-C3500 | 1 | € 180,42 | € 180,42 | Bestel |
| CP03RTBSCD54 | 03 Years CoverPlus Return To Base service for TM-C3500 | 1 | € 154,23 | € 154,23 | Bestel |
| CP04OSSWCD54 | 04 years CoverPlus Onsite Swap service for TM-C3500 | 1 | € 290,03 | € 290,03 | Bestel |
| CP04RTBSCD54 | 04 Years CoverPlus Return To Base service for TM-C3500 | 1 | € 270,63 | € 270,63 | Bestel |
| CP05OSSWCD54 | 05 years CoverPlus Onsite service engineer for TM-C3500 | 1 | € 433,01 | € 433,01 | Bestel |
| C33S020580 | TM-C3500 maintenance box | 1 | € 29,10 | € 29,10 | Bestel |
| C33S020601 | Black cartridge | 1 | € 20,37 | € 20,37 | Bestel |
| C33S020602 | Cyaan cartridge | 1 | € 20,37 | € 20,37 | Bestel |
| C33S020603 | Magenta cartridge | 1 | € 20,37 | € 20,37 | Bestel |
| C33S020604 | Yellow cartridge | 1 | € 20,37 | € 20,37 | Bestel |