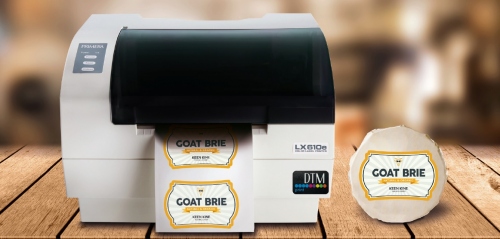 Primera DTM LX610e
De LX610e's print en precisie snij unit zijn geïntegreerd in 1 machine om in 1 eenvoudige en tijdbesparende opdracht uw etiketten te printen en te snijden.
Importeer uw ontwerp en selecteer een standaard snijformaat. U kunt kiezen uit diverse standaard formaten en vormen zoals cirkels, vierkante en rechthoeken in elk formaat of een speciale contour welke automatisch en precies uw ontwerp uitsnijd. U hoeft nooit meer een speciale stans te bestellen!
Technische specificaties:
Print methode Thermal inkjet
Print resolutie 1200 x 1200 dpi native: up to 1200 x 4800 dpi
Print snelheid Voor gestanst material tot 46 mm per seconde
Digitale gesneden etiketten hangt af van de vorm
Max. print breedte 104 mm indien u met de LX610e gaat snijden
127 mm indien u gestanste etiketten gaat printen
Max. print lengte 305 mm
Media Voorgestanst materiaal- -Continue materiaal - Transparant gestanst met black mark
Power vereisten 240 V, 50/60 Hz, 60 watt
Certificering UL, UL-C, CE, FCC Class A
Printer is vanaf medio februari 2020 te leveren!
Downloads
Printers
Primera DTM LX610e
074542
Media
DTM Magnetisch materiaal 121 mm breed x 30,5 mm
057215
DTM Paper high gloss 125 mm breed x 47 meter
CC36HG125HIS
DTM Poly clear gloss eco 125 mm breed x 47 meter
CC36PCGE125HIS
DTM Poly matte white advanced 125 mm breed x 47 meter
CC36PWMA125HIS
DTM Paper semi gloss 125 mm breed x 47 meter
CC36SG125HIS
3 colour cartridge pigment inkt
053495
3 colour cartridge dye inkt
053496
| Code | Omschrijving | Aantal | Prijs/stuk | Prijs excl. | |
| --- | --- | --- | --- | --- | --- |
| 074542 | Primera DTM LX610e | 1 doos | € 2.495,00 | € 2.495,00 | Bestel |
| 057215 | DTM Magnetisch materiaal 121 mm breed x 30,5 mm | 1 rol | € 105,00 | € 105,00 | Bestel |
| CC36HG125HIS | DTM Paper high gloss 125 mm breed x 47 meter | 1 rol | € 42,50 | € 42,50 | Bestel |
| CC36PCGE125HIS | DTM Poly clear gloss eco 125 mm breed x 47 meter | 1 rol | € 54,00 | € 54,00 | Bestel |
| CC36PWMA125HIS | DTM Poly matte white advanced 125 mm breed x 47 meter | 1 rol | € 44,00 | € 44,00 | Bestel |
| CC36SG125HIS | DTM Paper semi gloss 125 mm breed x 47 meter | 1 tol | € 32,50 | € 32,50 | Bestel |
| 053495 | 3 colour cartridge pigment inkt | 1 stuk | € 69,00 | € 69,00 | Bestel |
| 053496 | 3 colour cartridge dye inkt | 1 stuk | € 69,00 | € 69,00 | Bestel |